Do FUE hair transplants cause scarring?
FUE hair transplant surgery is safe and simple. It is completed quickly under local anaesthetic and recovery times from FUE hair transplant procedures are short. 
However, FUE surgery is still surgery and, as with all surgeries, some scarring is inevitable. 
Procedures which break the skin and rely on inflammation to heal cause scars. 
Hair transplant scars can still be invisible to the eye once a surgery is performed well.
There are two areas into which incisions are made when completing FUE surgery.
The donor area, typically on the back and occasionally sides of the head, is used to provide grafts for transplant. Scarring from a hair transplant in these areas is permanent and sometimes visible under close scrutiny.
The recipient area, typically any size of area between the hairline and crown of the scalp, receives the grafts for transplant. When performed correctly, hair transplant scars should not be visible in the recipient area.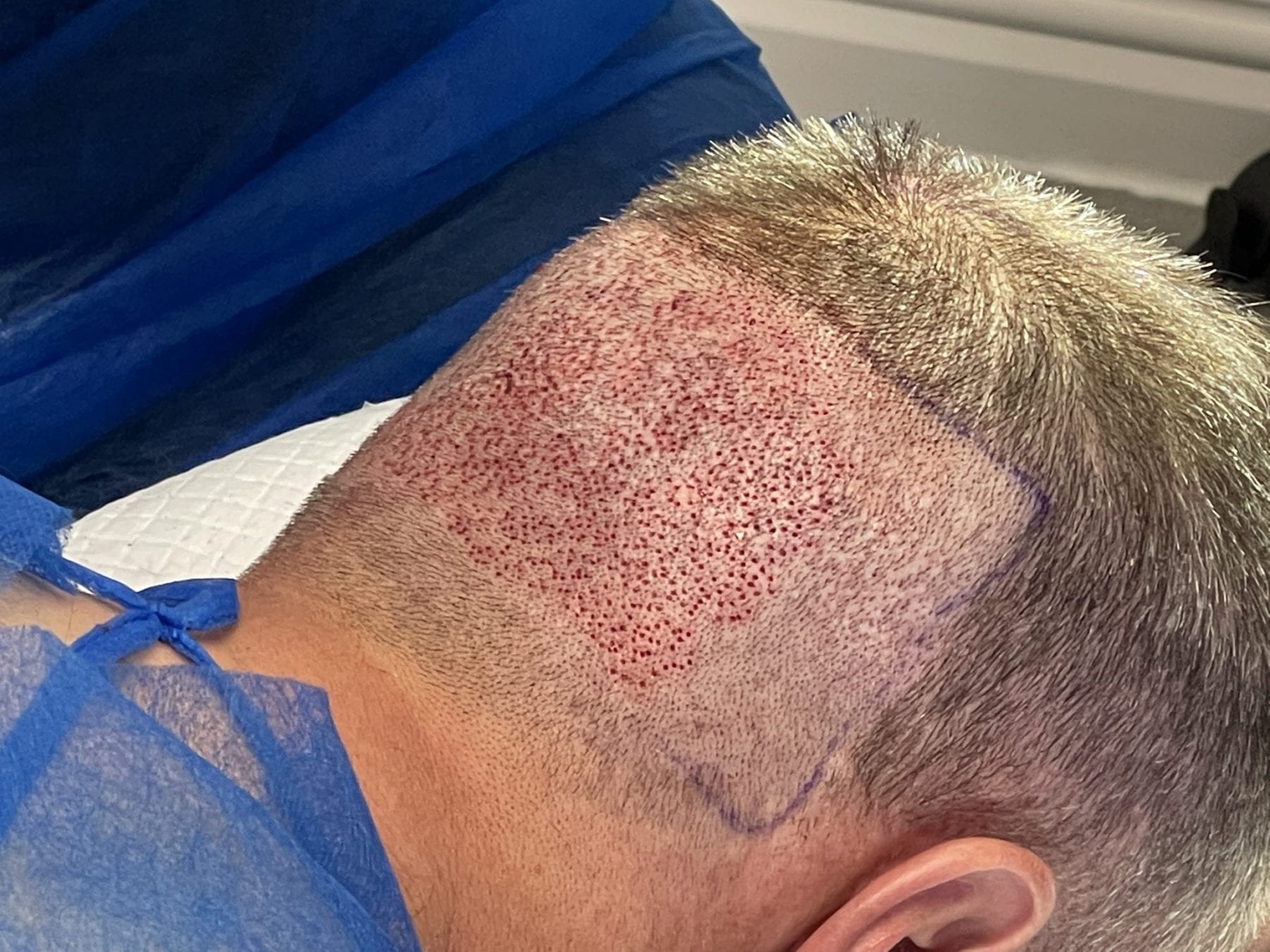 FUE hair transplant scars
FUE surgery sees individual hair follicular units extracted one at a time using a 0.7mm microscopic punch mechanism.
Each extraction leaves a minute round scar of 0.7mm in diameter.
This can mean hundreds or sometimes thousands of microscopic circular incisions healing together in the days following a hair transplant.
To minimise the appearance of scarring from FUE surgery, the number of individual extractions must be kept as low as possible, while providing enough grafts to create a thick covering of hair in the recipient area.
Harvesting too many grafts can create a diffuse thinning effect in the donor area, which then can make FUE hair transplant scars more visible once they have healed.
However, due to their microscopic nature, FUE transplants do tend to leave next-to-no visible scarring once healed. 
When scarring does appear FUE scars manifest as little white dots only visible to the naked eye once the donor area is shaved again. 
Hair transplant donor area scars may be more evident in clients with darker or tanned skin due to the scars' pale, hypo-pigmented nature.
MHR Clinic advises all FUE patients that they can safely trim their hair to a no.2 clipper grade without FUE hair transplant scars becoming apparent. 
Some donor area scarring goes on underneath the surface of the scalp too. 
When FUE extractions are made too close together, there can be an overlap of scar tissue beneath the skin which creates a matrix of scar tissue, called sub-dermal fibrosis.
Follicles left behind in the donor area can become tightly bound in scar tissue beneath the scalp's surface, making them more difficult to harvest in future procedures.
Choosing a skilled, knowledgeable and experienced surgeon is the most important part of keeping hair transplant scars to a minimum.
The use of a 0.7mm follicle extractor to harvest follicles from as wide a donor area as possible is also intrinsic in avoiding FUE scars. 
[et_pb_shop type="product_category" posts_number="6″ include_categories="55″ orderby="date-desc" _builder_version="4.9.4″ _module_preset="default" width="87%" module_alignment="center" min_height="100px" height="122px"][/et_pb_shop]
Helping FUE hair transplant scars to heal 
Having minor scars from a FUE hair transplant is unavoidable. However, there are ways to heal and conceal these scars so they cannot be seen unless hair is cut extremely short.
The following practices help to heal and conceal FUE hair transplant scars:
Having a hair transplant surgeon who works with a 0.7mm follicle extractor rather than any larger diameter of punch mechanism

Harvesting no more follicles than is absolutely necessary to complete the hair transplant to an appropriate covering of hair

Extracting follicles in a uniform pattern from a wide donor area to allow a dense covering of hair growth from remaining follicles

Undergoing a hair transplant at the earliest moment possible to take advantage of the body's most youthful healing powers

Dousing the donor area scars with saline solution regularly, as instructed, in the week following a FUE hair transplant

Applying scar treatment oils such as peach kernel oil, sweet almond oil, tamanu seed oil and calendula oil help to reduce their visibility, once they have healed

Undergoing scalp micropigmentation with an ink similar in colour to surrounding hair to blend scars into their environment
MHR Clinic uses highly skilled, experienced and dedicated surgeons, who are members of ISHSR (International Society of Hair Restoration Surgery), the General Medical Council and who are accredited by other important medical and surgical bodies.
If you want to understand more about hair transplant processes, our knowledgeable consultants are happy and waiting to help you. Telephone 01565 745 344 or contact MHR Clinic through this contact page.