Hair Restoration on a Case-By-Case Basis
MHR Clinic combines surgical procedures with medical treatments and supplementary therapies to create bespoke hair restoration programmes that meet each individual's needs. Our confidential, customer-first approach to resolving hair loss offers these programmes in conjunction with a thorough assessment and consultation period as well as exemplary aftercare so you achieve the very best results possible for you.
Your Consultation Process
Every hair restoration process at MHR Clinic begins with an in-depth assessment of your hair, health and lifestyle to identify the cause of your hair loss and the best treatments for you. Our clinic surgeon, GP, trichologists and consultants share a wealth of knowledge about hair fall in men and women. They are experts in treating hair loss on a case by case basis. MHR Clinic will guide you through all of the surgical and medical options available to you, explaining each aspect of every treatment in detail so you can feel confident in the informed decisions you make. You will learn about transplant techniques, you will discover how each medication can address your hair loss and you will understand how bespoke treatment combinations can achieve life-changing results. Our confidential consultations are undertaken at no cost to you in the privacy of our exclusive and discreetly located clinics on the Tatton and Harewood estates. If you wish to begin your hair restoration journey now then please contact us on 01565 745344. We are waiting to help you.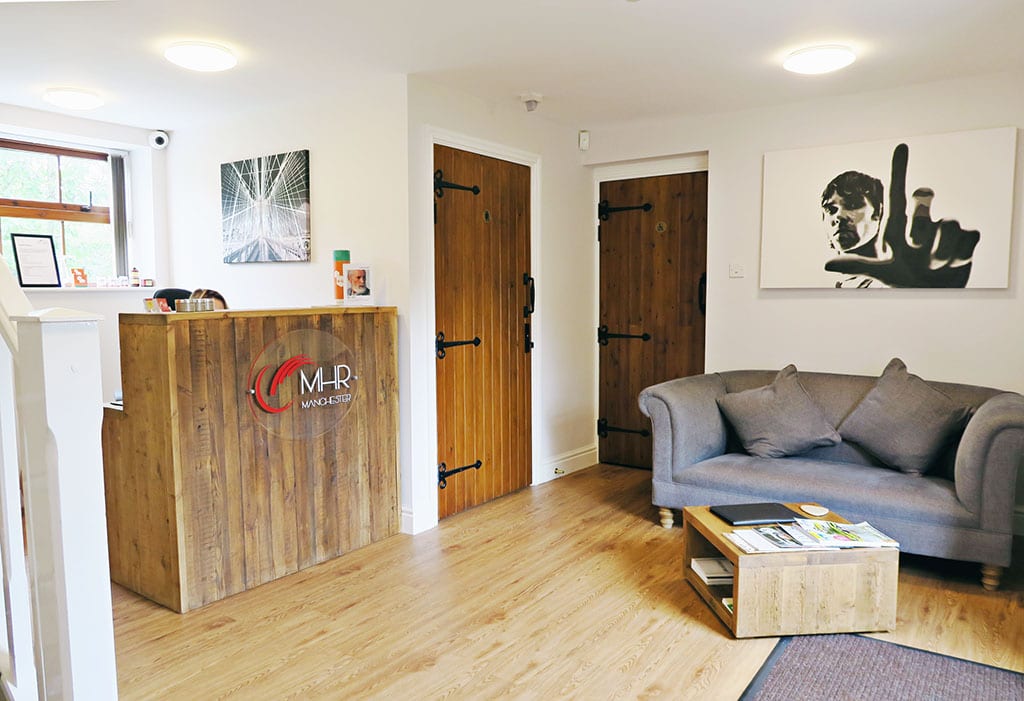 Your Surgical Procedures
Hair transplants are minor outpatient procedures, the majority of which are less invasive than dental surgery. They are performed under local anaesthetic and are carried out while you watch television or read a magazine. Each transplant procedure involves the transfer of healthy hair follicles from your scalp's 'permanent' donor areas to 'temporary' recipient areas suffering hair loss. They re-establish a full head of hair and restore a natural look to your hairline, temples and crown. The experience and skill of MHR Clinic's industry-revered surgeons guarantees you an extremely high follicle survival rate, leaving you with a full head of hair you can wash, style and trim any way you choose.
MHR Clinic Manchester is happy to announce they are fully CQC approved and registered for the undertaking of surgical operations.

REGISTRATION NUMBER
1-9507846397
FUE – Follicular Unit Extraction and Implantation Procedures
MHR Clinic specialises in Follicular Unit Extraction hair transplants and guarantees the success of every FUE procedure it undertakes. Our surgeons are among the world's most experienced practitioners in this form of hair transplant procedure, having performed thousands of successful FUE surgeries during the last 12 years. Their skill in carrying out FUE outpatient procedures ensures fast recovery and healing periods that allow you to return to normal life within hours of your hair transplant. Their perfected surgical techniques are performed under local anaesthetic in dedicated transplant theatres and produce a precise distribution of follicles resulting in the best and most natural hair restoration for your hair type, face shape and age. Each hair follicle is removed individually and manually from the back or side of your scalp using a microscopic punch before being submerged in a nutrient-rich gel and placed in cold medical storage until it is implanted at the correct depth and angle to suit the natural growth, lie and contours of your permanent hair. The transplanted follicles then grow naturally into a dense covering of hair. Any scarring becomes undetectable within weeks and stands up to close scrutiny, as many clients discover on their next visit to a hairdresser.

FUT – Follicular Unit Transplantation Procedures
For patients with advanced hair loss requiring extensive restoration MHR Clinic offers Follicular Unit Transplantation to transfer a greater volume of follicles to the scalp's recipient areas. Our surgeons are equally versed in performing these less time-consuming surgeries that achieve the highest follicle survival rates of all hair transplant procedures. During FUT procedures their surgical expertise is employed to remove a fine strip of scalp containing multiple hair follicles that are divided under microscopes into individual grafts for implantation. They are then individually embedded in minute incisions made in the recipient area of your scalp to match the natural growth of your permanent hair. The donor area is closed with surgical staples or stitches and heals to form a faint and subtle scar which is easily disguised by its surrounding hair.
ARTAS® – Robot-Assisted Follicular Unit Extraction
ARTAS FUE offers state-of-the-art robotic hair restoration to produce the most consistent and natural results of all follicle transplant procedures in approximately half the time of those performed manually. The computerised ARTAS system, controlled by our experienced surgeons in a dedicated ARTAS operating theatre, combines a suite of tools for the best possible selection and distribution of your hair follicles. It creates customised 3D hair transplant designs for your consideration, calculates the optimal number of grafts to fulfil each design and identifies your most suitable donor follicles according to depth, angle and donor area density. This high-precision equipment – the 9x ARTAS robot released in 2017 – then pinpoints each exact location on your scalp for manual implantation, achieving the densest possible coverage while avoiding damage to existing healthy hair.
Your Medical Treatments
Medical treatments combined with supplementary therapies are often enough to alleviate hair loss, regenerate follicles and promote the growth of healthy new hair. MHR Clinic has an in-house team of GPs and trichologists who guarantee you the best medicines and guidance for non-surgical hair treatment.
Prescription Medication
Specialist prescription medications restore your hair and confidence gradually, making it difficult for others to notice the tremendous change underway.
Finasteride
Finasteride, also known by its brand name Propecia, is a prescription-only medication for men suffering from mild to moderate hair loss. It reduces the effect of DHT (Dihydrotestosterone) on the scalp's follicles, stimulating them to recover their normal growth cycle by arresting further hair loss and allowing the strengthening and thickening of every hair shaft. Prescribed by our clinic GP, Finasteride has few if no side effects and works most efficiently when combined with low level laser and supplementary therapies.
Minoxidil
Minoxidil, sold in low doses under several brand names, is prescribed in higher doses by our clinic GP to men and women suffering mild to moderate hair loss. Applied topically as a lotion or foam, Minoxidil widens the scalp's blood vessels, allowing more oxygen, blood and nutrients to reach each hair follicle. It has few if no side effects, halts hair loss and stimulates strong regrowth in patients who use it indefinitely while combining it with low level laser and supplementary therapies.
Low Level Laser Therapy
Low level laser therapy is a safe, effective and affordable treatment proven to restore hair growth, enhance hair quality and alleviate psoriasis, dermatitis and scalp scaling. Undertaken in laser therapy chairs, it delivers a light spectrum which boosts blood circulation and protein production in the scalp and keratin content in hair by up to 30 percent. Patients typically undergo two 40-minute laser therapy sessions each month in conjunction with prescription medicines, supplementary therapies and surgical procedures where necessary.
Your Supplementary Therapies
MHR Clinic offers a range of supplementary therapies to enrich and enhance the results of other treatments by keeping your body in its optimum condition to support the healthy growth of hair.
Scalp Micropigmentation
Scalp Micropigmentation (SMP) is a non-surgical treatment which uses nano technology and specialised inks to simulate the effect of a full head of hair. It has a semi-permanent effect of up to six years, produces a close-shaven appearance on scalps and camouflages alopecia, birthmarks, severe burns and other scarring. MHR Clinic offers SMP as a singular treatment or an enhancement to medical and surgical procedures.
Medical Shampoo and Lotion
Our range of medicated shampoos and creams contain saw palmetto as well as panthenol and wheat amino acids to boost water retention and thicken each strand of hair. They also contain low alkaline properties to minimise damage to each hair shaft during daily washing.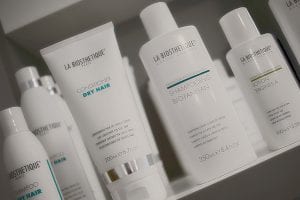 Herbal and Mineral
Herbal and mineral supplements enhance the success of other treatments by maintaining your body's optimum condition for healthy hair growth.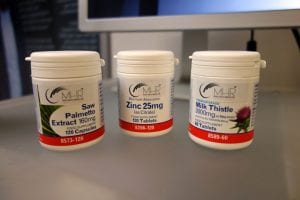 Saw Palmetto Extract
Extracted from the berries of the Saw Palmetto tree, this organic remedy blocks 5-alpha-reductase that converts testosterone to DHT and brings about hair loss.
Milk Thistle Extract
Extracted from the seed of the milk thistle plant, this organic remedy helps to eliminate excess hormones that contribute to hair loss in men and women.
Zinc Citrate
Zinc Citrate supplements counter hair loss by boosting cell and protein production, vitamin and mineral absorption and by restoring hormonal balance in the body.