LOW LEVEL LASER THERAPY – THE BENEFITS, HISTORY AND SCIENCE
24-07-2019
MHR Clinic CEO Craig Henton explains why LLLT is so effective in promoting hair growth.
MHR Clinic leads its industry in providing low level laser therapy as a successful way to promote hair growth.
Each MHR Clinic houses a suite of laser therapy chairs, used every day by many of our clients to stimulate their hair follicles into growth cycles.
We often administer the treatment to reduce the extent of each hair transplant needed by our clients. In many cases, such as Hollyoaks actor Adam Rickitt, we completely eliminate the need for surgical procedures by using low level laser therapy.
Many other clinics told Adam he needed an extensive hair transplant. We restored his hair from an advanced state of hair loss to a full head of hair by prescribing weekly laser therapy sessions with herbal treatments and micro doses of prescription medicine.
MHR Clinic has invested in the highest class of laser therapy technology for the most safe and effective distribution of the light spectrum needed to restore thinning hair.
We perpetually achieve impressive regrowth of hair for our male and female clients who undergo LLLT. You can see the proof on the results page of our website.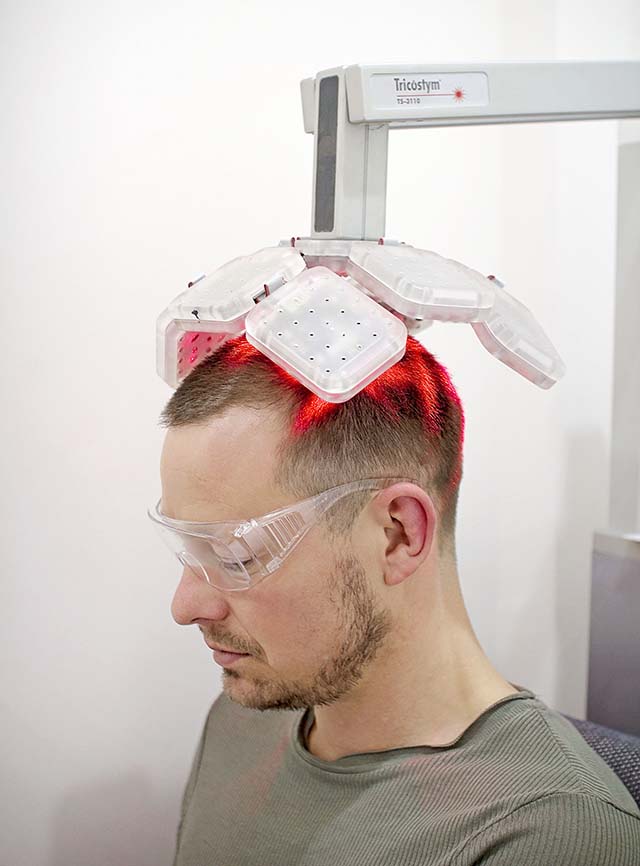 Ex-Corrie star Adam Rickitt maintains a full head of hair with low level laser therapy at MHR Manchester.
Many hair transplant surgeons choose to cast shade on low level laser therapy because it successfully reduces the number of follicles needed at transplant. They prefer to transfer higher numbers of follicles as they can represent it in the fee they charge for their work. While they try to diminish its standing in the field of hair restoration, we repeatedly hear our surgeons remark on the quality of donor hair it produces for FUE, and the fewer number of follicles needed to complete procedures.
It may not be the best thing to offer in terms of our clinics' profitability but we put the client first. The overall success of their treatments are important to them and us.
HISTORY
We understand our word may not be sufficient for some, so we thought we would throw a little more light on the subject.
Low level laser therapy's use as a hair restoration treatment was discovered accidentally in 1967 by a Hungarian surgeon who tested its power to reduce skin cancers on shaven mice.
The physician, Endre Mester, recorded hair growing back much more quickly on a group of mice receiving LLLT than the group he left untreated.
Since then it has been used widely on people to promote healthy hair growth while other medical applications have also been uncovered, including the acceleration of healing in sports injuries.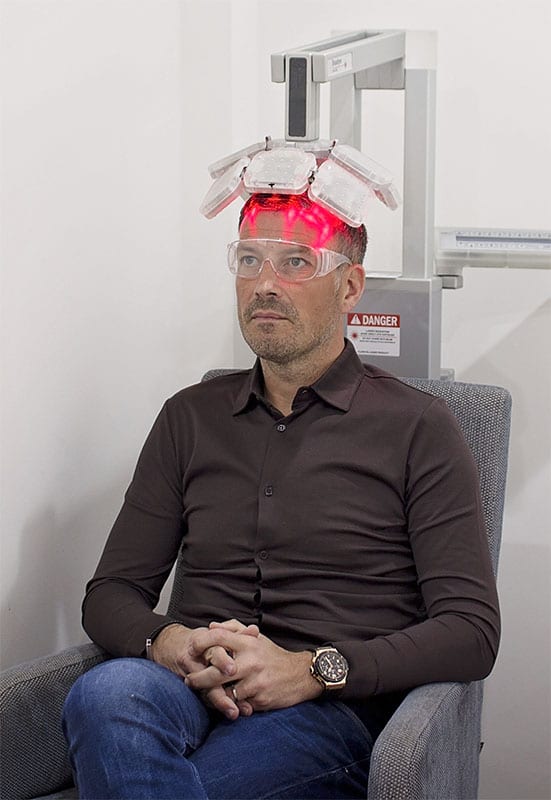 Referee Mark Clattenburg undergoes low level laser therapy at MHR Manchester.
EVIDENCE
LLLT, also known as cold laser therapy, works by directing photons from between 800 and 860 nanometres on the light spectrum at a person's scalp. The light band triggers the bio-stimulation of cell structures in the scalp and hair follicles.
People also receive increased doses of this type of light from intense sunshine, and that is why our hair quality and its growth often increases when we go on holiday to a sunny destination.
In the last few years medical bodies have begun to increase trials for the application of LLLT. They have proved it to be effective as a stand-alone remedy, and in conjunction with other hair loss treatments.
As low level laser therapy generates hair growth, MHR Clinic frequently administers it to men in combination with measured doses of finasteride and DHT-blocking shampoos to reduce dihydrotestosterone and halt male pattern baldness. We also advise the use of minoxidil hair lotions to further relax the scalp's blood vessels for better supply of oxygen and nutrients.
RESULTS
Trials on 225 patients in 2014 by the American Society of Clinical Dermatology found LLLT "to be a safe, alternative treatment for patients with androgenetic alopecia in both men and women."
The American Society of Clinical Dermatology went on to report in its journal that LLLT showed particular "efficacy in combination with topical minoxidil and when accompanying finasteride treatment."
More recently, in 2016, Lasers in Surgery and Medicine Journal concluded that LLLT was "a promising monotherapy for androgenetic alopecia" and served as "an effective alternative for individuals unwilling to use medical therapy or undergo surgical options."
But as we've said, the results speak for themselves. Take a look below and on our results page.
For more information about using low level laser therapy to restore your hair please contact one of our clinics. Our knowledgeable staff are happy to help you.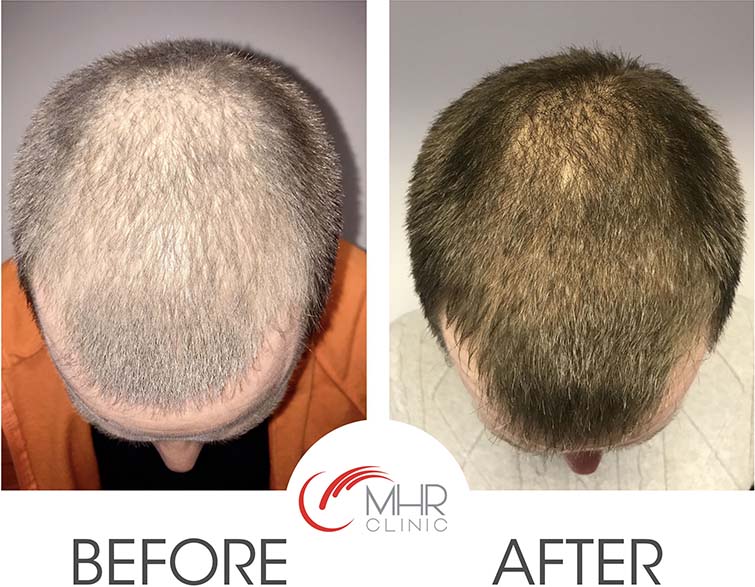 Adam has weekly LLLT in conjunction with micro doses of medicine. The results speak for themselves.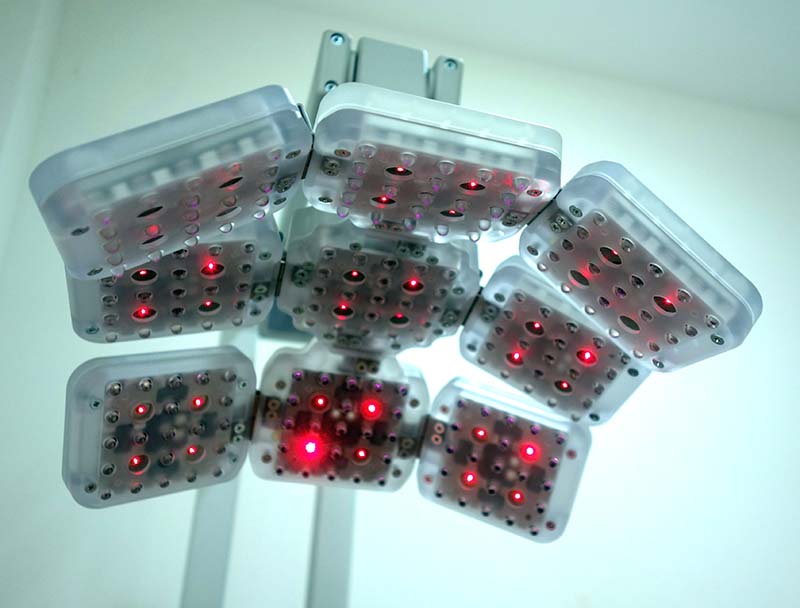 JUST TO BE SCIENTIFIC ABOUT IT…
When low level laser therapy is used cell proteins in the scalp membrane produce a chemical known as ATP (adenosine triphosphate), which converts to AMP (adenosine monophosphate) in the hair follicle. AMP releases energy for a metabolic process needed for hair growth. The simultaneous release of nitric oxide from cells during the process also leads to improved vascular blood flow in the scalp, increasing the distribution of nutrients and oxygen to hair roots and promoting a growth (anagen) phase. As a result genetic male and female pattern baldness is halted and reversed by low level laser therapy.