FUT surgery, also known as a 'strip' hair transplant procedure, is a much less frequently used hair transplant technique than FUE surgery. 
FUT is more invasive than FUE, and it is used when a high number of donor follicles are required to complete a hair transplant.
When male pattern baldness has reached the later stages of the Norwood scale, FUE techniques cannot harvest the number of follicles required to create an adequate covering of hair on the top of the scalp.
When performed well, FUT hair transplant procedures can provide a sufficient number of grafts for insertion into the scalp's crown, vertex and hairline so that a good covering of hair is achieved.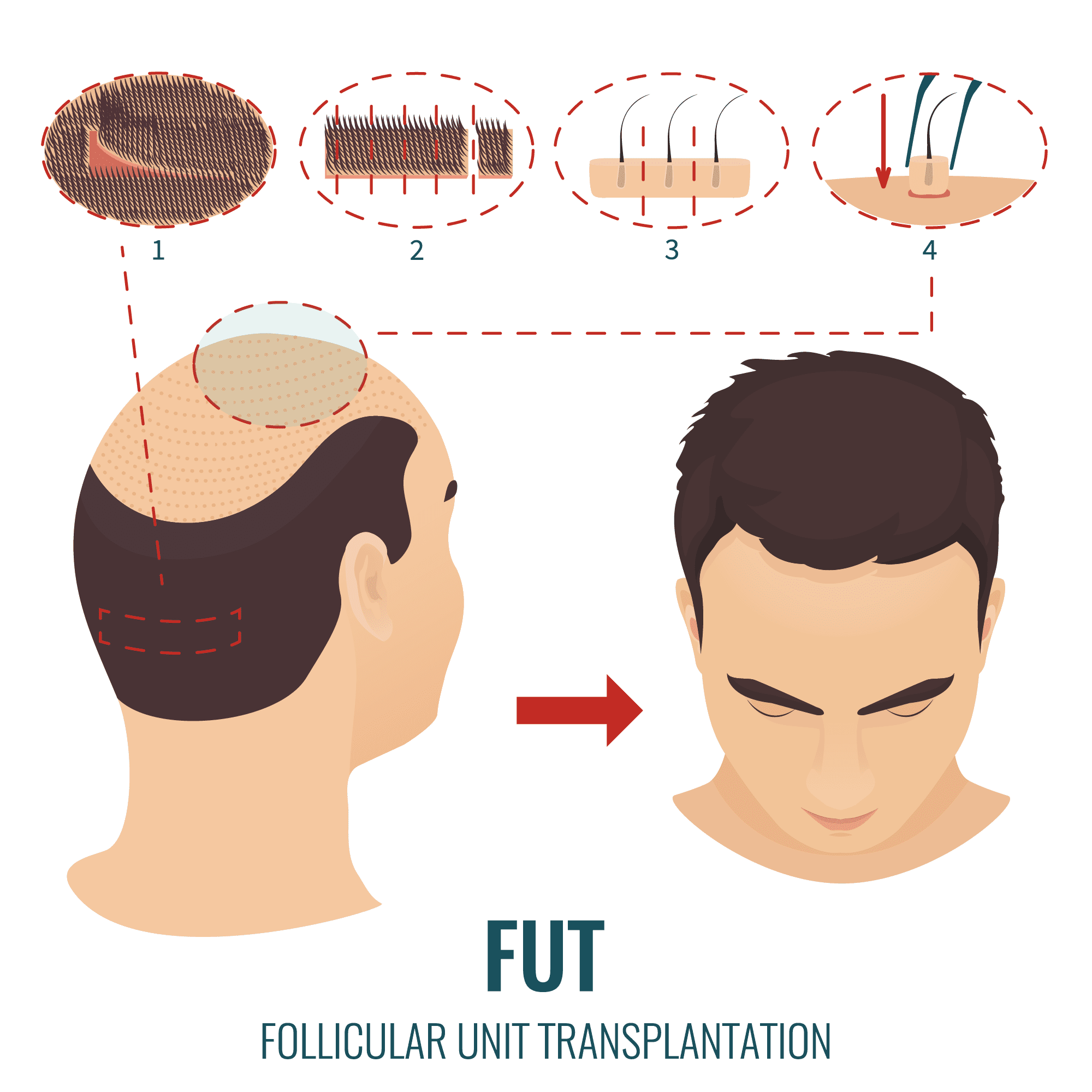 How is FUT surgery performed?
FUT surgery sees a strip of scalp tissue containing hair surgically removed from a donor area on the back of the head.
FUT hair transplant procedures provide the greatest number of available grafts per surgery.
Once the hair strip is been removed from the back of the head, the resulting wound is stitched or stapled together to heal.
The strip of scalp is then dissected into a myriad of individual grafts for implantation.
An equal, or slightly smaller, number of incisions to the number of grafts created are created in the scalp's crown, vertex and hairline areas.
A good hair transplant surgeon will create them at angles which produce a natural hair pattern for the client.
The grafts are then carefully inserted into the incisions where they will secure a new blood supply from micro-capillaries and nerve endings.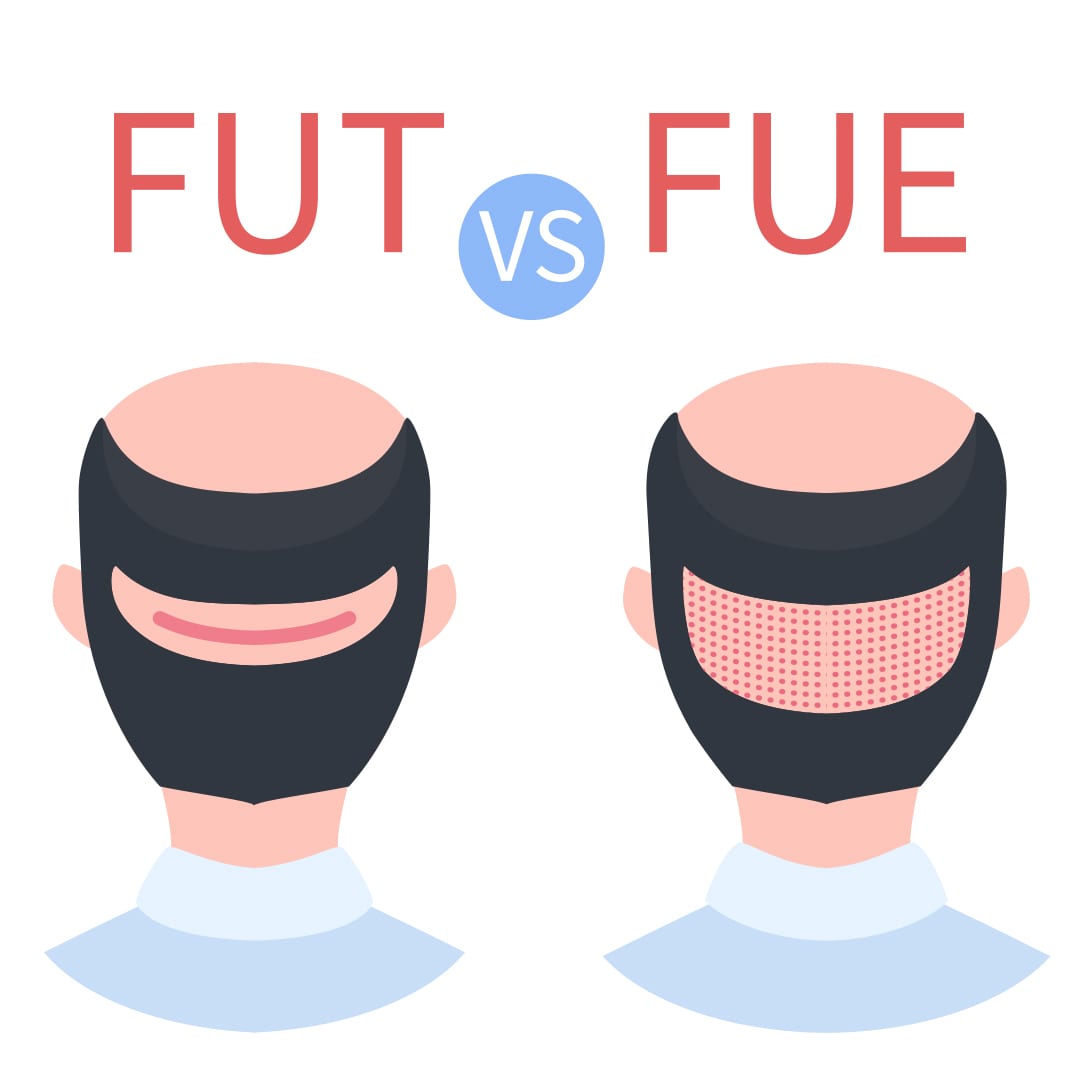 What does a FUT surgery scar look like?
FUT procedures leave a linear scar of varying lengths, based on the size of the strip extracted. 
A typical FUT scar heals anywhere between 1mm and 2mm in width, making it obvious that a hair transplant has taken place.
As a result, FUT transplants cause more severe scarring at the back of the scalp than FUE transplants – as often a large area of tissue is required and removed. 
Healing and concealing a FUT hair transplant scar 
Having a scar from a FUT hair transplant is unavoidable. 
However, there are ways to minimise and conceal these unsightly scars, so they can't be seen unless hair is cut relatively short.
The following practices help to heal and conceal FUT hair transplant scars:
Having a hair transplant surgeon who is hugely experienced with a scalpel and in other types of surgery 

Harvesting no more scalp tissue than is absolutely necessary to complete the hair transplant to an appropriate covering of hair

Removing scalp tissue from the densest donor area to minimise the amount required and allow greater coverage from surrounding hair

Performing a special wound closure technique which threads hair from one side of the incision through skin on the other

Dousing the donor area scar with saline solution regularly, as instructed, in the week following a FUE hair transplant

Applying scar treatment oils such as peach kernel oil, sweet almond oil, tamanu seed oil and calendula oil help to reduce its visibility, once it has healed

Undergoing scalp micropigmentation with an ink similar in colour to surrounding hair to blend the scar into its environment

Undergoing laser treatment to reduce the appearance of FUT scars, in conjunction with scalp micropigmentation 
MHR Clinic uses highly skilled, experienced and dedicated surgeons, who are members of ISHSR (International Society of Hair Restoration Surgery), the General Medical Council and who are accredited by other important medical and surgical bodies.
If you want to understand more about hair transplant processes, our knowledgeable consultants are happy and waiting to help you. Telephone 01565 745 344 or contact MHR Clinic through this contact page.